I KNOW WHAT IT'S LIKE TO FEEL LOST AND CONFUSED WITH MONEY.
It took my husband and I hitting rock bottom before we finally got our financial life on track.
My goal in coaching you is to help you clarify where you hope to be financially. I will help you develop an action plan to guide you toward achieving those goals.
Financial freedom and clarity don't have to feel far off. You can totally achieve your goals no matter your income.
My husband and I became 100% debt-free (which includes our house) on his $47,000 salary. Trust me. You don't have to make a ton to make an impact.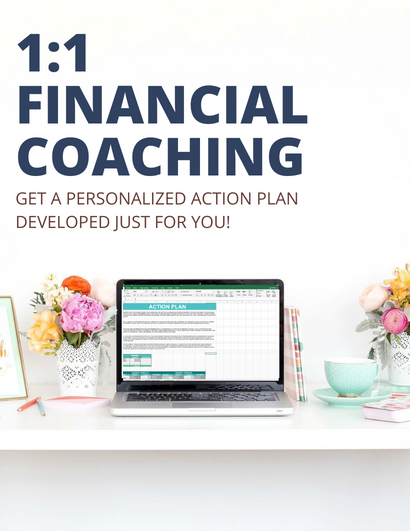 WHAT YOU CAN EXPECT FROM A COACHING SESSION
Once you've submitted payment, you'll receive a welcome message from me with a few questions I'll need answered before I can start your session. Once you have answered the questions I will respond with a message and your Action Plan. 
Once I've completed your Action Plan, you will receive a message from me containing the Action Plan and a video detailing the Action Plan, my thoughts, advice, and the best course of action to take. 
Here's the catch. 
Oh yes, there's a catch. I can give you all the advice in the world, but it's up to you to take it. I cannot force you to make any necessary changes, but I promise that the more thorough you are in providing me with your information, the better I'll be at coaching and guiding you. 


Thanks for submitting your information! Please continue with the checkout process.
Frequently Asked Questions
Can I get a refund if I'm unhappy with my purchase?
I do not offer refunds for coaching services as this is a fee-for-time service. I promise that you will get out of the coaching session what you put into it. 
How do I schedule my appointment?
Upon purchasing coaching, you'll receive further instructions on how to book a time for your appointment.
Can I purchase coaching more than once?
Absolutely! If you find yourself in need of coaching more than once, simply purchase the coaching again.