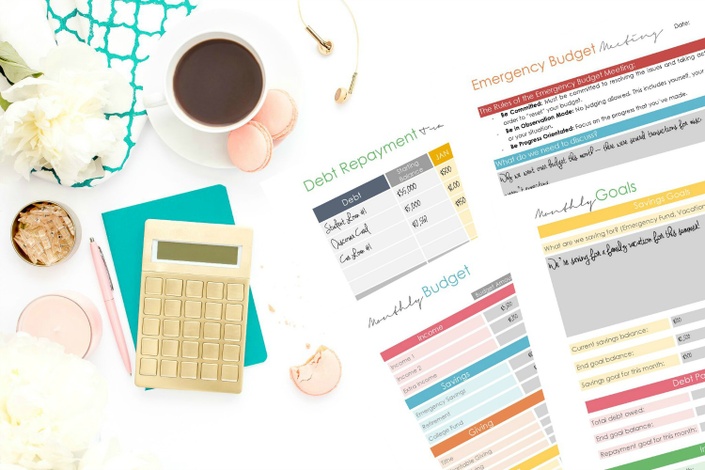 Real Life on a Budget Planner
Printable budget planner for your real life.
Many of my readers have been asking me for years to share with them everything that my budget planner entails and this is it! This budget planner includes everything you'll need in order to set yourself up for budgeting success!
It contains calendar page, monthly budget pages, monthly expense tracking pages, goal tracking, monthly check-ins, debt repayment tracking, savings tracking, bill pay tracking, holiday budget planning and more!
Just print, hole punch and organize however you see fit!
For me personally, I use my Budget Planner in my Budget Binder and since many have asked, here's how my budget binder is organized (which is exactly the order of the .pdf): (The binder I use is this one here from Staples.)
Tracking (this for all the bill pay, debt repayment, and savings tracking)
Holiday Planning (this contains the holiday budgets and gift planning)
Emergency Meetings (this contains 12 sheets – one for each month – in case of an emergency and we have to discuss major changes to the budget)
JAN – DEC (I just have the Avery Monthly Tabs here and I divide up the sections according to the month.)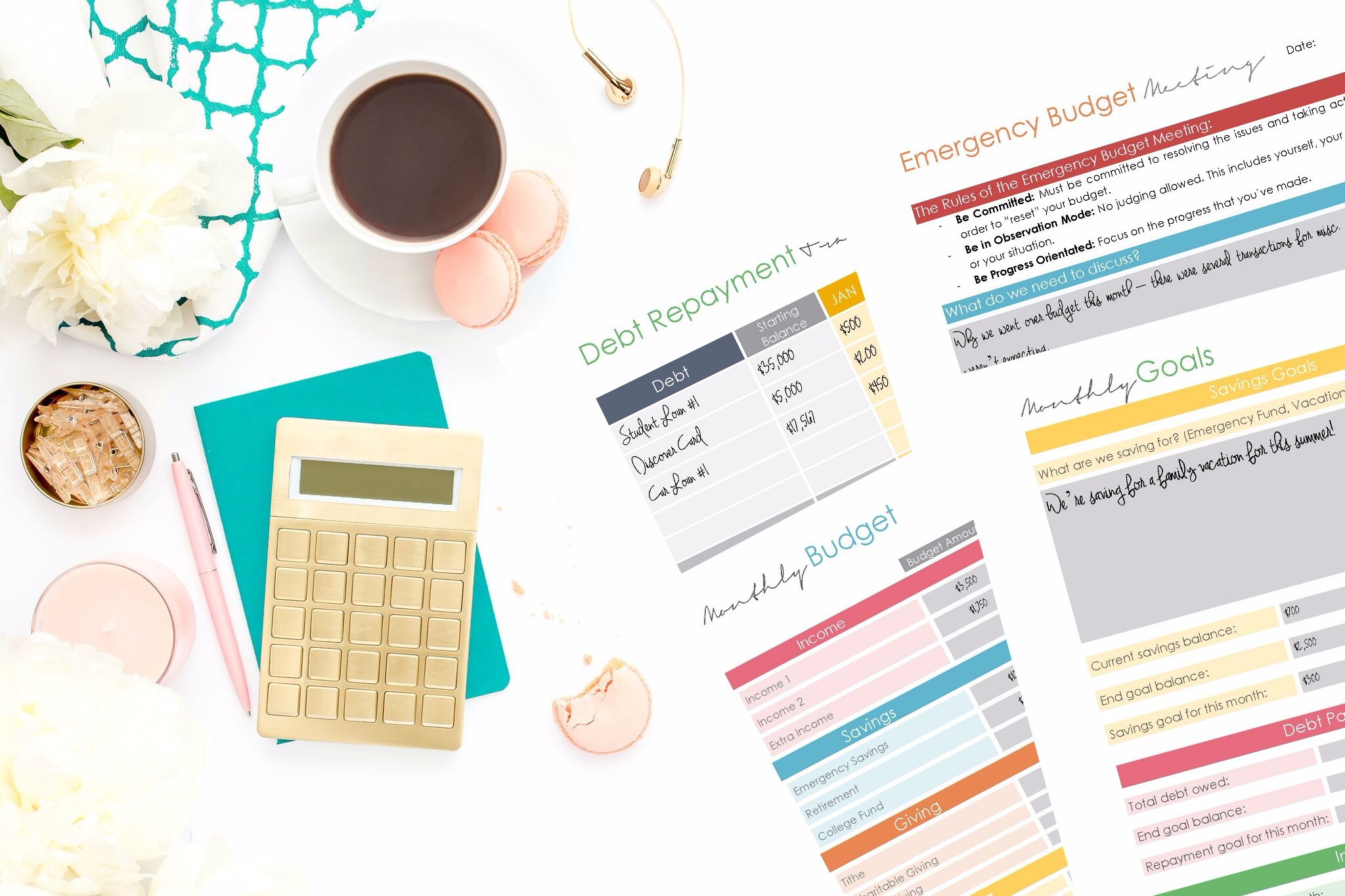 Under each monthly tab are:
– Monthly Budget Sheets
– Monthly Expenses Tracker
– Monthly Goals
– Monthly Check-ins
I also personally like to hole punch our paper statements and include them under each section as well with the pay info (date, amount paid, how paid, etc.)
For a complete video tutorial on how I organize my binder, head here to view the video.
My favorite part of this entire Budget Planner, is the Monthly Goals sheet. I'm a huge fan of goal-setting and I believe that a truly great budget revolves around solid financial goals. And by setting your goals before the month even starts, you'll be able to better plan out your budget based on your current life priorities.
For example, if you want to take your family to the beach this summer, you could list that as your savings goal for the next couple of months. By keeping this goal at the forefront you're more likely to achieve and you'll probably accomplish in less time than you thought. That's the power of goal-setting.
Your Instructor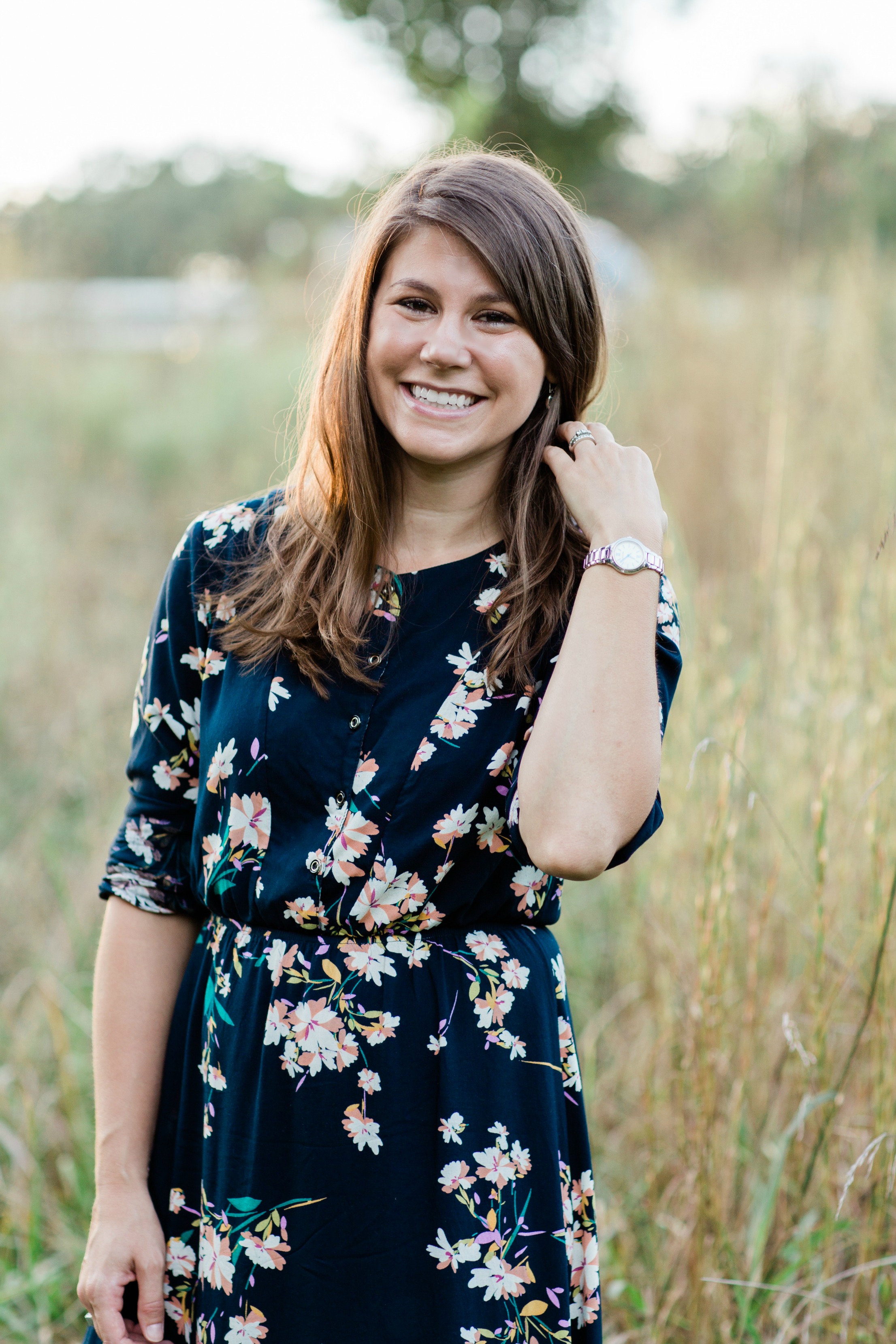 Jessi is a mom, personal finance coach, wife, writer, speaker, blogger extraordinaire, and all around personal finance expert after overhauling her own family's budget and paying off $55,000 of debt in just 17 months. Since documenting her journey on jessifearon.com and helping tons of other families, Jessi has since been featured on DaveRamsey.com, Buzzfeed, the Huffington Post, Nerd Wallet and MSN. Jessi resides in the foothills of the Blue Ridge Mountains of North Georgia with her husband Pat and their three children Conner, Collin, and Charlotte.